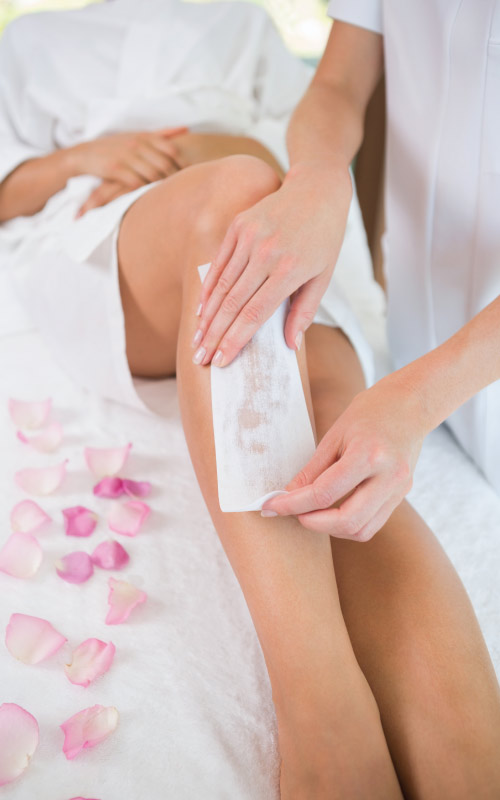 All staff is very experienced and friendly who finishes their work professionally.
Get rid of the unwanted hair with the wax , We provide a relaxed professional environment with privacy and confidentiality a must. We are friendly and all have a great sense of humor to put you at ease. If you are a male and in need of a wax, don't worry we make sure that all of our clients are fully comfortable. For a discreet and relaxing waxing experience, trust our experienced beauticians to make sure your wax is perfect for you. Our professional staff is highly skilled and gets ongoing training to keep them the top of their game.
We offer everything from a quick underarm wax to a full leg or Brazilian wax and the smaller facials waxing areas. You will be taken care of by one of our friendly female therapists to make sure you are comfortable from start to finish. Our professionals in the salon use the right equipment and quality wax to get you the smoothest shining skin that you would love to flaunt.
Moreover, you will receive incomparable full body waxing services through the talented and skilled staffs that we have. Our staff has great deal of experience in waxing and performs services with great efficiency. A good and proper waxing will help you to get skin as smooth as silk and will remove the hair from the root, so you don't have to bother about the weird bumps or unfavorable reactions that shaving or hair-removal creams happen to bring. So, all the ladies who appreciate good waxing should make a visit to our saloon.
Book Your Appointment Now
Chloe Biannca
3. June, 2021.
Absolutely amazing service here every time! Preet is my brow technician and she is the only person I trust with my brows. Perfect shape every time and is very gentle with my face and skin. I normally get brow threading and tinting but I have also a lash lift which Preet did a beautiful job! Love her work every time and I have not been disappointed yet. I would highly recommend <3
Estephany BB
2. June, 2021.
I liked the service and the threading for my eyebrows.
Emily Short
10. May, 2021.
Great brow service perfect colour and shape. Extremely lovely service
Minishka G
14. April, 2021.
My go to place for eye brows threading with consistent result each time. I have been visiting this place for years. Preet & Roop have maintained the quality of service and professionalism. Preet recently did my facial and she was very thorough. Very happy with their services!
aditi rakshit
10. April, 2021.
My favourite go to place for getting my eyebrows done. Opted for deluxe facial this time - they did a fantastic job, my skin feels so much better.
Brittany Lee
1. April, 2021.
I love this place! I always leave feeling my best self and so cared for. If you love friendly, professional and talented staff you will 100% love it as much as I do!
Donna Sayer
27. March, 2021.
Just had my eyebrows threaded and tinted, as well as a lash tint and lift for the first time here. Loved it. Very lovely service and love the finished product! Will definitely be going back ❤️
Had a lash lift and brow lamination. I'm very happy with the results. The ladies were very professional and accommodating. Happy with the way they shaped my brows. Thank you.
Grace C
29. January, 2021.
First time getting lash lift and tint AND threading and after a week - still fantastic. They were happy for me to guide them but when it was clear I had no idea what I was doing, kindly guided me. Looks great, would go back.