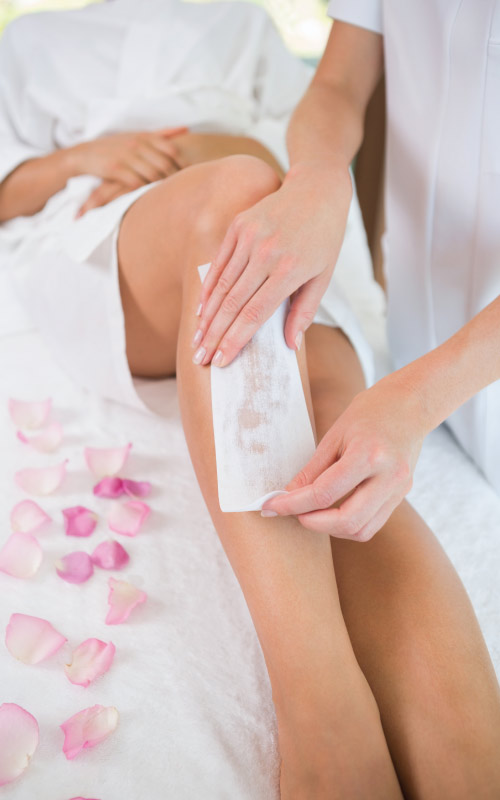 All staff is very experienced and friendly who finishes their work professionally.
Get rid of the unwanted hair with the wax , We provide a relaxed professional environment with privacy and confidentiality a must. We are friendly and all have a great sense of humor to put you at ease. If you are a male and in need of a wax, don't worry we make sure that all of our clients are fully comfortable. For a discreet and relaxing body waxing experience, trust our experienced beauticians to make sure your wax is perfect for you. Our professional staff is highly skilled and gets ongoing training to keep them the top of their game.
Eyebrow and Eyelash Tinting Services
We offer everything from a quick underarm wax to a full leg or Brazilian wax and the smaller facials waxing areas. You will be taken care of by one of our friendly female therapists to make sure you are comfortable from start to finish. Our professionals in the salon use the right equipment and quality wax to get you the smoothest shining skin that you would love to flaunt. We offer brow & lash tinting services.
Moreover, you will receive incomparable full body waxing services through the talented and skilled staffs that we have. Our staff has great deal of experience in waxing and performs services with great efficiency. A good and proper waxing will help you to get skin as smooth as silk and will remove the hair from the root, so you don't have to bother about the weird bumps or unfavorable reactions that shaving or hair-removal creams happen to bring. So, all the ladies who appreciate good waxing should make a visit to our saloon. The Beauty & Brow Aesthetics Offers You An Extensive Range Of Face & Body Waxing in Melbourne. 
Beauty Trends in Melbourne
In the bustling city of Melbourne, where fashion and beauty trends are ever-evolving, maintaining perfectly groomed eyebrows has become a necessity. At Beauty and Brow Aesthetics, we understand the importance of well-defined eyebrows, and our eyebrow waxing in Melbourne is here to help you achieve your desired look effortlessly.
Why Choose Eyebrow Waxing?
Eyebrow waxing is a time-tested technique that offers precision and long-lasting results. It involves the application of warm, soft wax to the unwanted hair, followed by the swift removal of both hair and wax. This method not only removes hair from the root but also exfoliates the skin, leaving you with smooth and hair-free brows.
Our Expertise:
Beauty and Brow Aesthetics, our team of highly skilled aestheticians who have mastered the art of eyebrow waxing in Melbourne.  They are trained to understand unique facial structure of each client, ensuring personalized and flattering eyebrow shape complements your features.
Safe and Painless:
Our waxing process is gentle and virtually painless, making it suitable for all skin types. We use premium-quality Products. Our focus on hygiene and sanitation ensures a safe and clean environment for your comfort and peace of mind.
Long-Lasting Results:
Unlike other hair removal methods, eyebrow waxing provides results that can last for weeks. Say goodbye to daily tweezing or trimming; our Melbourne services will keep your brows in perfect shape for an extended period.
Enhance Your Beauty:
Well-groomed eyebrows can enhance your facial aesthetics, framing your eyes and giving you a polished look. Whether you prefer a natural, arching, or bold brow style, our aestheticians will work with you to achieve the desired outcome.
Convenience and Confidence:
Beauty and Brow Aesthetics in Melbourne is conveniently located, making it easy for you fit eyebrow waxing into busy schedule. Leave our studio feeling confident and ready to conquer the world with your flawless brows.
Transform Your Brows with Brow Lamination:
For those seeking an innovative solution to achieve fuller, more defined brows, Beauty and Brow Aesthetics offers Brow Lamination in Melbourne. It is semi-permanent treatment that helps reshape and set your eyebrow hairs in place, creating fuller and more structured look.
The Brow Lamination Process:
Our expert technicians will carefully apply formulated solution to your brows, allowing us to reshape the hairs to desired look. The result is a fuller, more uniform appearance that can last for several weeks.
Brow Lamination Benefits:
Brow lamination is a game-changer for those with unruly or sparse brows. It not only gives your brows a more defined look but also adds volume and structure. With this treatment, you can achieve a polished and groomed appearance with minimal daily maintenance.
Experience the Difference:
Trust Beauty and Brow Aesthetics in Melbourne to provide you with Brow Lamination that enhances your natural beauty. Our technicians are trained in the latest techniques to ensure a safe and comfortable experience.
In conclusion, whether you're looking for precise eyebrow waxing or transformative Brow Lamination in Melbourne, Beauty and Brow Aesthetics is your trusted partner in achieving the perfect brows. Our expert team is dedicated to helping you look and feel your best, so book an appointment with us today. Our body waxing process is gentle and virtually painless, making it suitable for all skin types. We use premium-quality Product
Book Your Appointment Now
Chloe Biannca
3. June, 2021.
Absolutely amazing service here every time! Preet is my brow technician and she is the only person I trust with my brows. Perfect shape every time and is very gentle with my face and skin. I normally get brow threading and tinting but I have also a lash lift which Preet did a beautiful job! Love her work every time and I have not been disappointed yet. I would highly recommend <3
Estephany BB
2. June, 2021.
I liked the service and the threading for my eyebrows.
Emily Short
10. May, 2021.
Great brow service perfect colour and shape. Extremely lovely service
Minishka G
14. April, 2021.
My go to place for eye brows threading with consistent result each time. I have been visiting this place for years. Preet & Roop have maintained the quality of service and professionalism. Preet recently did my facial and she was very thorough. Very happy with their services!
aditi rakshit
10. April, 2021.
My favourite go to place for getting my eyebrows done. Opted for deluxe facial this time - they did a fantastic job, my skin feels so much better.
Brittany Lee
1. April, 2021.
I love this place! I always leave feeling my best self and so cared for. If you love friendly, professional and talented staff you will 100% love it as much as I do!
Donna Sayer
27. March, 2021.
Just had my eyebrows threaded and tinted, as well as a lash tint and lift for the first time here. Loved it. Very lovely service and love the finished product! Will definitely be going back ❤️
Had a lash lift and brow lamination. I'm very happy with the results. The ladies were very professional and accommodating. Happy with the way they shaped my brows. Thank you.
Grace C
29. January, 2021.
First time getting lash lift and tint AND threading and after a week - still fantastic. They were happy for me to guide them but when it was clear I had no idea what I was doing, kindly guided me. Looks great, would go back.