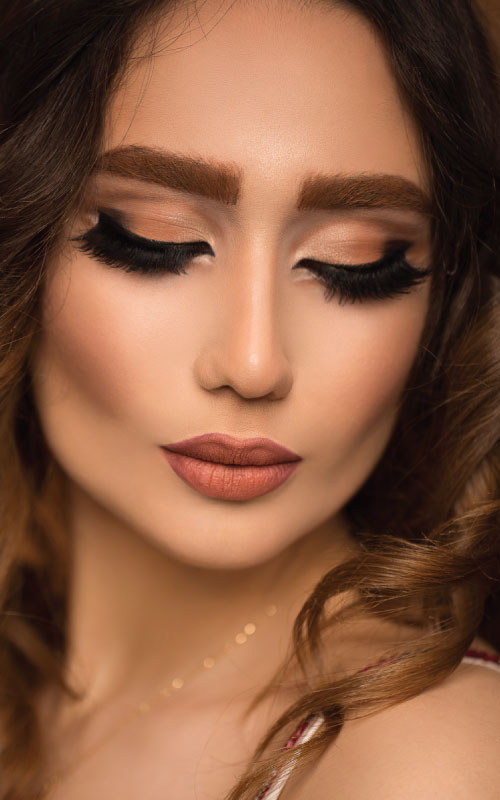 Brow & Lash Tinting Services
All staff is very experienced and friendly who finishes their work professionally.
Brow & Lash Tinting Services is the perfect way to look made up with minimum effort. Your eyebrows and eyelashes will look defined without a slick of makeup. If you have light-colored brows and lashes, eyebrow and eyelash tinting is the perfect solution to accentuate your eyes by giving you a darker and more prominently defined brow and lash line.
It's also a useful solution for those who are sensitive to make-up, don't have time to apply mascara or fill in the eyebrows every day, or do lots of sports, especially swimming. We use premium long lasting professional tints for our lash Lift Services and eyebrow coloring and conditioning, and carry a wide range of color options. Our expert therapists will guide your color selection and processing time. We take your safety very seriously. 
Lash and Brow Beauticians
Beauty services performed near the eyes carry additional risks and have an elevated level of care. Our experienced lash and brow beauticians are here to help you assess the shape and color that will best suit your face and style. One of the biggest bonuses of tinting is taking away the need to maintain your lashes and brows every day. Tint will give you lasting color for weeks with little to no maintenance. 
Perfect for those with busy lifestyles and those who engage in sport as tint will not run or smudge like mascara or brow pencils. If this isn't a life hack, we don't know what is! Well, our tinting professionals only use the best products from reputable brands to safely color your lashes and brows. Your tint will genuinely last up to 6 weeks depending on a few factors.
Eyebrow and Eyelash Tinting Services
Enhance your natural beauty with our eyebrow tinting services at Beauty and Brow Aesthetics. Our skilled professionals use high-quality, hypoallergenic tint to give your eyebrows a more defined and polished look. Whether you want to darken, lighten, or simply add a touch of color, our eyebrow tinting experts can create the perfect shade to match your preferences and skin tone.
With our precise application techniques, your eyebrows will appear fuller and more expressive, highlighting your eyes and framing your face beautifully. Say goodbye to daily makeup routines and hello to long-lasting, vibrant eyebrows. Experience the confidence-boosting effects of eyebrow tinting with us.
At Beauty and Brow Aesthetics, we offer expert eyelash tinting services that will transform your lashes and elevate your natural beauty. Our talented technicians use safe, high-quality tints to darken and define your lashes, eliminating the need for mascara. With a range of colors to choose from, you can achieve the perfect, customized look to complement your eyes.
Our eyelash tinting is a convenient and time-saving solution, perfect for those with busy lifestyles. You'll wake up with stunning, well-defined lashes that make your eyes pop. Skip the hassle of daily makeup and enjoy beautifully tinted lashes that last for weeks. Elevate your look and boost your confidence with our eyelash tint services.
Book Your Appointment Now
Chloe Biannca
3. June, 2021.
Absolutely amazing service here every time! Preet is my brow technician and she is the only person I trust with my brows. Perfect shape every time and is very gentle with my face and skin. I normally get brow threading and tinting but I have also a lash lift which Preet did a beautiful job! Love her work every time and I have not been disappointed yet. I would highly recommend <3
Estephany BB
2. June, 2021.
I liked the service and the threading for my eyebrows.
Emily Short
10. May, 2021.
Great brow service perfect colour and shape. Extremely lovely service
Minishka G
14. April, 2021.
My go to place for eye brows threading with consistent result each time. I have been visiting this place for years. Preet & Roop have maintained the quality of service and professionalism. Preet recently did my facial and she was very thorough. Very happy with their services!
aditi rakshit
10. April, 2021.
My favourite go to place for getting my eyebrows done. Opted for deluxe facial this time - they did a fantastic job, my skin feels so much better.
Brittany Lee
1. April, 2021.
I love this place! I always leave feeling my best self and so cared for. If you love friendly, professional and talented staff you will 100% love it as much as I do!
Donna Sayer
27. March, 2021.
Just had my eyebrows threaded and tinted, as well as a lash tint and lift for the first time here. Loved it. Very lovely service and love the finished product! Will definitely be going back ❤️
Had a lash lift and brow lamination. I'm very happy with the results. The ladies were very professional and accommodating. Happy with the way they shaped my brows. Thank you.
Grace C
29. January, 2021.
First time getting lash lift and tint AND threading and after a week - still fantastic. They were happy for me to guide them but when it was clear I had no idea what I was doing, kindly guided me. Looks great, would go back.